Interior visualization
Our team provides high quality photo realistic architectural rendering outputs in the form of interior visualizations. To achieve the objective, we fill up the created room with furniture. Additionally, we place there lightning, accesories and consider the most suitable color scheme. Unlike traditional photography, we select the room, which suitably matches with furniture color and style. Furthermore, the style of furniture (modern or classical) has impact on the type of used accessories. In addition, visualizations can take the form of 3D walkthrough animations. In this solution, the price difference between the visualization and the film crew is colossal.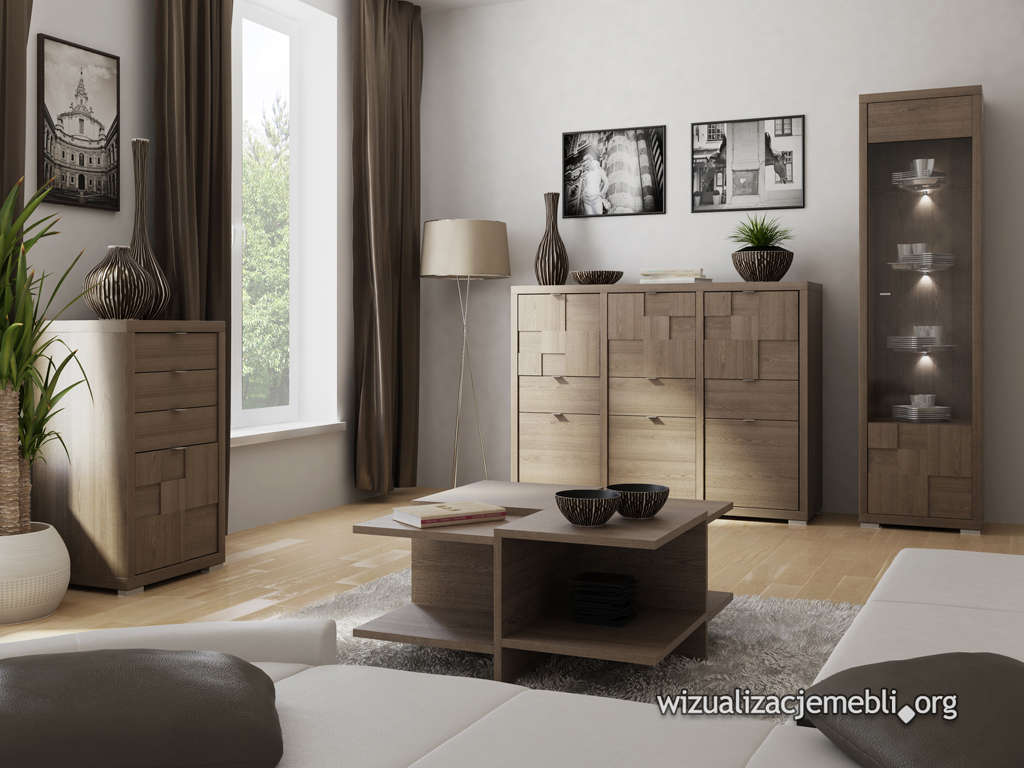 Why not opt for visualizations?
Furniture visualizations provided by wizualizacjemebli.org are cheaper, less time consuming and enable you to present each set of furniture in a completely different room. Until now, taking pictures of furniture was associated with necessity of transportation of each piece of it, preparing the room, accesories and lightning. This solution was extremely expensive. Behind it laid several days of preparation and providing transportation. The end result of that was often unattractive photographs, which were taken in only one room. Nowadays visualizations enable companies to present their products without loss of valuable time. There is even no need to produce any piece of furniture, which is planned to be shown. All preparations ends up at the design stage. Therefore you don't need to store your product in any kind of warehouse until starting the sale. It results in extra savings. Any additional changes (form, color, accessories) made at the design stage greatly facilitate pursuit of the perfect product.
How long I must wait for visualization?
Typically the wait time to receive visualization doesn't exceed 5 working days. However, it depends on the quantity of ordered visualizations, a required image size and other factors.
How can visualizations be used?
Visualizations are made for the printed catalogs, posters, websites, auctions and fairs. Additionally, our visualizations can take the form of a vehicle wrap print. The size of produced rendering output allows covering truck in it. In this case, resolution of the generated image enables us to print visualization in the best quality. Unlike traditional photography, it doesn't require us to increase the overall dimensions to reach the actual size.
How much does furniture visualization cost?
We understand that each project is different and we approach them that way. Therefore to prepare cost estimate we have to exchange information with the Client and analyse furniture design. This allows us to adjust the total target costs. Allocated funds will no doubt be well-planned investment, which will bring tangible benefits.
Step by step - ordering and visualization production process.
The first step is to exchange information with the Client in order to determine the order size and the cost of visualization. Then the Client has to deliver all needed materials.
To create visualization we need:
- project information such as CAD plans or sketches with furniture dimensions
- information about color scheme and the material from which furniture will be made
- information about furniture details such as legs, handles, glass sandblasting
The next step is to send you preliminary design in the form of visualization. After that You verify it and inform us of any changes that must be made.
The last step is to receive the final shots customised to the Clients' requirements and make payment.